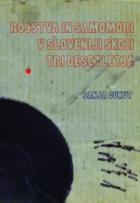 Title:
Author:
Year:
Keywords:
Language(s):
Description
In Slovenia, quite a few researchers have studied fertility and suicide, but rarely have the connections between both phenomena been made. The author aims to overcome simplified explanations of falling fertility and rising suicide rates by studying population dynamics as a socially relevant issue both at the Slovenian as well as the global level. She studies fertility and suicide by focusing on the historical development of population issues, recent theoretical population analyses and demographic statistics. Fertility and suicide are analysed from the viewpoint of approaches developed in the social sciences and humanities. In the second part of the monograph, these approaches are applied to fertility and suicide trends in Slovenia and press media reports on both issues.
By providing an overview of the history of studying fertility and suicide in Slovenia and abroad, the author has concluded that most approaches to fertility and suicide are grounded on the premises of the modernisation theory. Nevertheless, she was not discouraged to study alternative approaches to fertility and suicide that, according to researchers in the humanities, do not necessarily have a lower explanatory potential.
Table of content
PREDGOVOR
UVOD
I. DEL: ZNANSTVENE PRESOJE RODNOSTI IN SAMOMORILNOSTI
Družbeni pomen rodnosti in samomorilnosti
»Modernizacija« in upadanje rodnosti
Samomori in strah pred »negativnimi učinki modernizacije«
Pregled temeljnih družboslovnih pristopov k proučevanju rodnostnega in samomorilnega vedenja
Osnovni teoretični okviri proučevanja rodnostnega vedenja
Klasična teorija demografskega prehoda
Drugi demografski prehod – »od altruistične k individualistični usmeritvi«
Ekonomski pristop k proučevanju rodnosti
Teorija medgeneracijskega pretakanja blaginje
Od »delnih k celostnim demografijam« – sinteza mikro- in makro ravni proučevanja rodnosti
Osnovne sociološke paradigme proučevanja samomora
»Modernizacija in družbena integracija«
Kulturne razlage
Ekonomski pristop
Povezanost rodnostnega in samomorilnega vedenja
Strokovne presoje rodnosti in samomorilnosti v Sloveniji
Proučevanje in raziskovanje rodnostnega vedenja v Sloveniji
Proučevanje samomorilnosti na Slovenskem
Morebitna povezanost med rodnostjo in samomorilnostjo?
Množični mediji in konstrukcija »družbenih problemov«
II. DEL RODNOST IN SAMOMORILNOST V SLOVENIJI
Tiskani mediji o rodnosti in samomorilnosti
Motivi in cilji
Metodologija, vir podatkov in hipoteze
Rezultati analize
Deleži zapisov o rodnosti in samomoru po posamičnih analiziranih letih
Prvo obdobje: 1971–1980 – Družbeni razvoj, samomori in rodnost
Drugo obdobje: 1981–1990 – Skrb za »slovenski narod« in nujnost celovitega proučevanja rodnosti in samomorov
Tretje obdobje: 1991–2001 – »Nacionalna katastrofa«: nizka rodnost in visoka samomorilnost
Temeljne ugotovitve
Stopnje rodnosti in samomorilnosti in območja prekrivanja obeh pojavov
Metodološki opis, vir podatkov
Rezultati
SKLEPNA OPOMBA
VIRI IN LITERATURA
STVARNO IN IMENSKO KAZALO
Publishing House
Založba ZRC
ISBN
961-6568-39-6
Specifications
paperback • 14,5 × 21 cm • 118 pages