There are currently no new events.
2. 12. 2015 – Sociomedical Institute
SOCIOMEDICAL INSTITUTE ZRC SAZU: 
RESEARCH TOPICS AND MISSION
- we investigate WELLBEING and DIGITAL HEALTH;
- we respond to current and relevant socio-medical issues in the country;
- we focus on mental health, violence, suffering, experiences in the digital era;
- we employ an interdisciplinary, scientifically critical, and evidence-based approach; 
- we cooperate with governmental and non-governmental professional institutions and other actors at local, national and international levels. 
Wellbeing and Digital Health
The Sociomedical Institute ZRC SAZU employs an interdisciplinary, scientifically critical, and evidence-based approach in discussing current sociomedical issues, such as mental health, stress, violence and suffering in the digital era, and ambivalent, solidarity and conflict relationships among genders and generations in various social groups. These issues are discussed at multiple levels from the viewpoint of various scientific epistemologies and methodologies grounded in tight triangulation of qualitative and quantitative approaches. The topics are discussed in the context of local and global dynamics of social change, intensified technological development and the introduction of new ICT technologies and tools in the field of health. Within this framework, there is a focus on both emerging social inequalities and forms of solidarity and creativity. An academic approach is complemented by an exchange of knowledge and cooperation with governmental and non-governmental professional institutions and other sectors and community actors at local, national and international levels.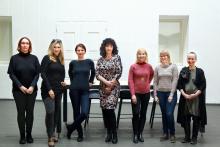 SCIENCE COUNCIL
Academician Marjan Kordaš, Ph.D., academician Zdravko Mlinar, Ph.D., Majda Černič Istenič, Ph.D., Sanja Krilić Cukut, Ph.D. (science council president), Lilijana Šprah, Ph.D. (head of the institute). 
BRIEF HISTORY
The Institute of Medical Sciences ZRC SAZU (now, the Sociomedical Institute) was established in November 19, 1981 when the Assembly of Slovenian Academy of Arts and Sciences set up its scientific-research organization. Although it initially existed only de jure, the Institute organised a series of discussions addressing controversial issues in the studies of medicine and health care. In 1994, the academics Dr. Lidija Andolšek Jeras, Dr. Lev Miličinski and Dr. Andrej Župančič prepared a study entitled Transformation of the Institute of Medical Sciences ZRC SAZU and delivered it to the then Ministry of Sciences and Technology. The study identified fertility behaviour (especially reproductive health) and suicide of the inhabitants of Slovenia as priority research areas. The research program (1999-2003) entitled Fertility Behaviour of Slovenians could be seen as a result and a realisation of that effort.
Several changes in the personnel structure of the Institute have taken place since 1999. As a result, the Institute's research orientation has expanded to the fields of sociology, social anthropology, psychology, neurobiology, and social work. Distinctive characteristic of the Institute has become increasingly mirrored in its multidisciplinary approach, and finally, led to renaming of the Institute to the Sociomedical Institute in 2005. The study of social phenomena, such as low fertility, aging of the population, migration, auto-and hetero-aggressive behavioural patterns and substance abuse, has been set in a wide spectrum of research areas covering the fields of social sciences, humanities and medical sciences. On the one hand, these research areas have increasingly referred to the sociological and social-anthropological interpretation of classical demographic models and concepts, social-anthropological theory of ethnicity and nationalism, and on the other hand, to the personality, psychosocial, neuropsychological and neurobiological theories of social behaviour.
FORMER EMPLOYEES
Dunja Obersnel Kveder, MA: 1 November 1997−17 September 2000
Barbara Rojnik, Ph.D.: 15 April 1998−30 November 2000
Irena Rožman, Ph.D.: 1 June 2003−31 May 2004
Andrej Kveder, Ph.D.: 1 November 1998−31 May 2005
Urška Rajgelj, Ph.D.: 1 November 2001−30 June 2007 and 10 September 2007−31 January 2008
Tatjana Novak: 1 June 2010 - 31 August 2014
Barbara Dolenc: September 2013 - September 2014
Jana Šimenc, Ph.D: February 2015 - September 2015
Karmen Urška Modic: February 2015 - April 2016
Melita Zver Makovec, Ph.D.: February 2015 - June 2016