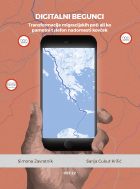 Title:
Authors:
Year:
Keywords:
Language(s):
Description
The smartphone has become one of the main tenets of contemporary spatial as well as digital migration routes that are increasingly determined by technologies, platforms and networks. Such routes have become increasingly dangerous and uncertain, which testifies of structural criminalisation and control of people on the move, but also raises important questions about autonomy and agency of individuals as a response to restrictive migration and border policies. The monograph explores such transformations by focussing on the movement of refugees across the borders of nation-states through a rethinking of the notion of vulnerability (especially of women and children), the examination of perceptions of refugees and migrants by the public and a reflection of the notions of climate change and climate refugees that all challenge the main classificatory mechanisms constructing more or less "legitimate" groups of migrants. In this vein, the authors argue for more solidarity throughout the movement of individuals through the "gates" and "violent borders" of contemporary nation-states.
Table of content
PREDGOVOR
MEJE, ZIDOVI, REZALNE ŽICE
Uvod: od »e-meje« do rezalnih žic
Šengenska e-meja ali premik k elektronskim zidovom
Koridor, balkanska begunska pot (2015)
Sklepni premislek: meje in nepravične geografije
PAMETNI TELEFONI, DIGITALNI BEGUNCI
Uvod: ambivalentnost digitalnega sveta v realnosti beguncev
Begunci in digitalne (ne)enakosti – pregled sodobnega raziskovanja
Uničevanje pametnih telefonov: izbris e-sledi o obstoju beguncev
Sklepni premislek: izbris beguncev na digitalnih poteh
AVTONOMIJA POTI. RANLJIVOSTI NA POTEH
Uvod: nacionalne države in mehanizmi klasifikacij
Tranzitne migracije: »varen koridor« na balkanski poti in avtonomija gibanj
Ali je spol pomemben pri govoru o beguncih?
Avtonomne migracije otrok, pogled z vidika otrok brez spremstva
Sklepni premislek: spremenjeno pojmovanje ranljivosti
JAVNO MNENJE. ONI, TUJCI
Uvod: tujec in »kultura strahu«
Javno mnenje in klasificiranje migrantov skozi družbene krize
SJM: modul »odnos do priseljevanja«
»Migracije – meje – javno mnenje«: analiza podatkov 2002–2016
Sklepni premislek: razdeljeno javno mnenje
OKOLJSKE MIGRACIJE. PRAVICA »DO MESTA«
Uvod: ranljivost ljudi, okolja in (družbena) pravičnost
Okoljske spremembe in migracije: diskusija o »podnebnih beguncih«
Kritika: od milijonov h konceptualnim premislekom
Okoljski migranti, okoljski begunci: težišče na podnebnih spremembah
Sklepni premislek: podnebna pravičnost za okoljske migrante/begunce
SLOVENIJA. REFLEKSIJE MIGRACIJSKIH POTI
Uvod: od notranjih k mednarodnim migracijam
Zgodovinski kontekst: Jugoslavija, Nemčija, »gastarbajterji«
Mejnik 1991, država in »začasni begunci« iz nekdanje države
Evropeizacija, državljani tretjih držav in »novi tujec«
Opomba: migranti in identitetna razlika »mi vs. oni«
Sklepni premislek: »krizni menedžment« migracij in žica ob Kolpi
SKLEP. VEČ MIGRACIJ, VEČ SOLIDARNOSTI
Angleški povzetek
Viri in literatura
Stvarno in imensko kazalo
O avtoricah
 
More ...
Gorazd Rečnik: Digitalni begunci - ko pametni telefon nadomesti kovček; Radio Slovenija 2, Val 2020 1.7.2020
Publishing Houses
Založba ZRC • Založba FDV
ISBN
978-961-235-913-3
Specifications
paperback • 17 × 23 cm • 172 pages
Price
15,00 EUR (Regular); for sale in the bookshop Azil
12,00 EUR (Club)